Venue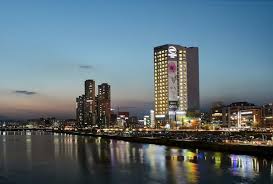 Hotel Riverside Ulsan
Address: 20, Jeolmeumui-geori, Jung-gu, 44532 Ulsan, South Korea
Hotel Details:
Boasting a river view, Hotel Riverside Ulsan features a convenient location and amenities for travellers. Free WiFi and free parking are available.
Each room comes with a kitchenette, a washing machine and a flat-screen TV. Private bathroom is fitted with free toiletries and a bidet.
A daily buffet breakfast is offered along with American options. Guests can also take advantage of a bar and a coffee shop inside the hotel.
The hotel offers a meeting room, a 24-hour business centre and a 24-hour front desk which can also provide travel guidance. Guests can either use the on-site fitness centre or take a short stroll in the Taehwagang Grand Park which is about 30 minutes' walk from the property.
Hotel Riverside Ulsan is located about a 15-minute drive away from Hyundai Motors Ulsan Plant and Ulsan Grand Park, an ecotype city park. The nearest airport is Ulsan Airport, within 20-minutes' drive from the hotel.